Our Beginning 1979 - 1993
ABOUT SLAVYANkA


Slavyanka's musical heritage goes back many years before its founding 40 years ago. Until the nineteenth century, the Russian Orthodox Liturgy was sung in its entirety by priests and a cappella male choirs. Over the centuries, liturgical and folk styles influenced one another as men from church choirs celebrated secular holidays or marched to battle. Following the Revolution of 1917, an 18-man chorus of White Russian emigres known as the Don Cossacks began bringing that music to Western audiences, under the direction of Serge Jaroff, a former military choir director and graduate of the Moscow Synodal Choir School. Later, larger Soviet ensembles such as the Piatnitsky, Sveshnikov, and Red Army Choruses introduced their own distinctive styles to the West.
Slavyanka's most direct heritage comes from a more recent émigré, Latvian-born Denis Mickiewicz, who founded the Yale Russian Chorus in 1953, and began a tradition of teaching American men to sing Russian music. In 1958, the YRC became the first American performing group to tour the Soviet Union on private initiative, and in 1962 it won international acclaim on a three-month tour of the U.S.S.R. and Europe. Though Mickiewicz left New Haven in 1965, the YRC has continued successfully, and alumni have helped set up other such choruses in San Francisco, Boston, New York, and Washington, D.C.


In 1978, following the YRC's twenty-fifth anniversary concert in Carnegie Hall, alumni John McCarthy, Paul Andrews, and Peter Gleick volunteered to help the YRC set up concerts in the San Francisco Bay Area for the following March. At those performances, they invited men interested in singing such music to an organizational meeting at St. Ignatius Church. Saint Ignatius' musical director John Klobucar offered rehearsal space in exchange for an annual performance and encouraged Paul to try his hand at directing. A friend of John Klobucar, Blair Dean, suggested the name "Slavyanka," the name that nineteenth century Russian explorers gave to what Californians now know as the Russian River. Slavyanka began rehearsing weekly, with a group of about fifteen men. Our first "public performance" came in July 1979, at a marriage celebration for charter member David Chaika and his wife Betty Lou. On November 18, 1979, we gave our first performance jointly with the Danica Women's Ensemble and instrumentalists from the Balkan Pacific, groups with whom several of our members had performed in the past.When the Yale Russian Chorus returned to California in March of 1980, we set up a "Slavic Festival" featuring the YRC, Danica and Slavyanka at U.S. Berkeley's International House. Shortly thereafter, Danica and Slavyanka were invited to sing for the movie soundtrack of Lee Grant's film "Tell Me a Riddle." Using income from that performance we purchased Russian shirts, which were first used in a performance at the Berkeley Public Library in April 1981. Later that month we took our first "road trip" to Mendocino and to our spiritual home, Fort Ross, where we were invited to return for a living history day in September.


Since its inception in 1979, Slavyanka has sung over 400 concerts, including performances at Yosemite's Ahwahnee Hotel, San Francisco's Russian Center, Grace Cathedral, Stanford's Dinkelspiel Auditorium, and the Cabrillo Music Festival. We also performed on radio stations KQED, KPFA, KUSF, and National Public Radio. Slavyanka formally became a non-profit corporation in 1983. In 1987 and 1991 we made our first recordings in the historic Chapel at Saint Vincent's School for Boys in San Rafael, CA, with the superb technical assistance of Jack Kenny and Paul Stubblebine. The 1987 album Music of the Russian Orthodox Church was made in celebration of the Millennium Year anniversary of Russian Orthodoxy. The 1991 album Russia Old and New contains a mixture of folk and liturgical music from various regions of the Soviet Union and Eastern Europe.


Early in 1986 Slavyanka was invited to perform at the Western Regional Meeting of the American Choral Director's Association, and in a special concert with Paul Winter and Yevgeny Yevtushenko at Berkeley's Zellerbach Auditorium,
Slavyanka toured the Soviet Union in the fall of 1986
and 1989, and we were warmly received in Moscow, Thilisi (Georgian SSR), Uerevan (Armenian SSR), and Leningrad. We were the first American chorus to perform in Leningrad's historic Kapella, on of the finest choral halls in the world, before a standing-room-only audience of choral directors and singers. Paul Andrews was chorus director during these times. In 1993 Paul stepped down to welcome Prof. Aleksei Shipovalnikov, a real Russian director newly arrived from Moscow State University, a composer and arranger as well as a conductor, and interestingly, studied with Leonard Bernstein in Moscow, among others.

The chorus of 20 to 30 men, first known as
Slavyanka
, was occasionally referred to as the San Francisco Men's Slavic Chorus as depicted in the beautiful art print by Vasil Lopata (1941- ), a Ukranian artist in San Francisco. On April 8, 1989 our first official music Slavyanka Men's Slavic Chorus Repertoire was published by then Chorus President Robert Teets. From 1993 to 2011 our chorus was known as
The Slavyanka Men's Russian Chorus .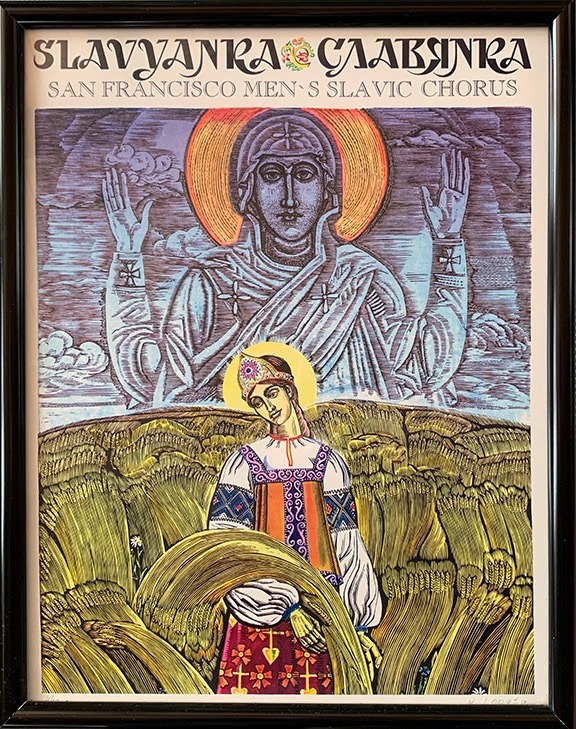 Vasil Ivanovich Lopata


A famous Ukrainian graphic artist and painter and the people's artist of Ukraine (2001) was born on April 28, 1941, in the village of New Басань Bobrovitskiy district of the Chernigov region. Vasil painted this beautiful print entitled
"
Slavyanka San Francisco Men's Slavic Chorus"