Tour of SlavyankaChorus Recorded Concert Music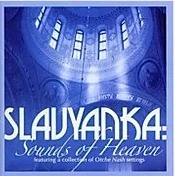 Slavyanka Russian Chorus
Musical History
Chorus singers and concert audiences have consistently been struck by the rich and unusual tonalities of this musical tradition. Initially we drew our repertoire from the Yale Russian Chorus, but over the years we have developed additional sources for its music -- including music from the Don Cossacks repertoire and from the archives of Alexei Shipovalnikov. We have also premiered works of contemporary Russian composers.
In 1986 and again in 1990, we were invited performers at the Western Regional Conventions of the American Choral Directors Association, where we received standing ovations.
The Chorus toured the former USSR in 1986 and 1989. During our first tour, we were the first American chorus ever invited to sing in Leningrad's (St. Petersburg's) historic M.I. Glinka Kapella Hall and over 900 Soviet choral musicians gave us their standing ovation. Other highlights from that tour included singing for the Catholicos (the head of the Armenian Church) near Yerevan, Armenia, and joint concerts with Georgian and other Russian choirs. During our second tour we performed sold-out concerts in Moscow, Kiev, Leningrad, and Vladimir. Our first Leningrad performance was a return visit to the Kapella which was followed by a sell-out performance at the Grand Philharmonic Symphony Hall, the USSR equivalent of America's Carnegie Hall. In 1988, the Chorus temporarily expanded to over 100 male and female singers and presented Rachmaninov's All-Night Vigil (Vespers) in San Francisco and in Palo Alto. In 2015, we celebrated the 100th anniversary of the All-Night Vigil with a series of three concerts that featured an augmented chorus of 100 voices, special soloists, and a full-sized set of Russian church bells.
The Chorus has released several recordings and all have been well received. We are also featured in other recordings and provided some of the music for the PBS documentary Spirit of a People, A New Portrait of Russia. A few selections are provided below. For an archive of album selections and chorus concert tours go HERE
Liturgy of St. John Chrysostom
Op. 40: Vidyekhom Svyet Istinny - Da ispolnyatsya usta nasha...

Russian Choral
Sergei Vasilievich Rachmaninoff
(1 April 1873 - 28 March 1943)
Russian composer, pianist, and conductor. He was one of the finest pianists of his day and, as a composer, the last great representative of Russian late Romanticism in classical music.
Shen Khar Venakhi
Thou Art a Vineyard
Tikha Ukrainskaya Noch
(Soft Ukranian Night)


Liturgy of St. John Chrysostom Op.40: Dostoino yest' (It Is Meet)
Dvednatsat Razboinikov
(Twelve Bandits)
Вдоль по Питерской
Vdol' po Piterskoi
(Along the Piterskaya)
Отче Наш
Otche Nash (Our Father)

Над полями
Nad polyami
(Over the Fields)

Proshchaniye Slavyanki
(The Farewell of a Slavic Woman)
Совет Превечный
Sovet Prevechnyi
(Eternal Counsel)

Ныне Отпущаеши
Nyne Otpushchayeshi (Lord, Now Lettest Thou)